Booking in procedure– Our workshop is run on an advance booking in service. To do this you will either need to give us a call or come in and see us. We aim to turn your bike around within the same day, however this is not always the case if particular parts are needed. If this is the case we will let you know when you bike will be ready. If, when you are booking your bike in, you are aware of any parts needed, then let the member of staff serving you know as this can give us a chance to order that part ready for your service.
PEAK TIMES-We can go through periods when we book in huge amounts of repairs in a short time. This normally occurs in April, May and June when the weather improves and people get their bikes out to use. This unfortunately often leads to waiting times on servicing that can stretch to weeks.
PRIORITY-During these times we reserve 50% of our workshop slots aside for those customers that have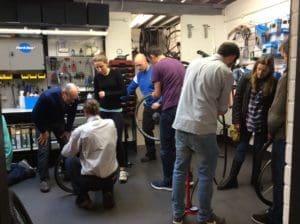 purchased their bikes from us. This is a way that we can show loyalty for those that have chosen to support us. This doesn't mean there will be no wait just hopefully a shorter one. When booking in on the phone if you have not been asked please mention it if it comes from us.
DROP IN JOBS-we strive to book in all services and jobs that require a reasonable amount of labour. However we understand that small jobs such as punctures, cables, gear tunes etc are not something that people want to wait a long time for. These jobs we take as a "Drop in Job" which means we get to it when there is capacity during the week. Normally bikes are turned around in a few days and again we do prioritise Saddle Safari bikes. (Drop in jobs are fully dependent on how busy the workshop is at the time, we cannot guarantee time frame).
Late nights– From the months of April to October, we run a late night opening time until 7PM on a Thursday to allow you to pick up and drop off any bikes you may have in the workshop.
*For all enquiries call 01628 477020 (option 2) *
Email: workshop@saddlesafari.co.uk
When we book your bike in for a service or repair, it is our aim to get the bike back to you in working order within a few days.                                                 
In the event we cannot source these parts we will discuss options with you but this may require that you take the bike home and return once parts are available.
We regret that we have to make these decisions but space restrictions make it impossible for us to store customer bikes awaiting parts beyond a week.