Bracknell Forest (Swinley Bike Hub)
Bracknell forest (Swinley forest) – the perfect starting place for a beginner though there are some more challenging trails for the more experienced.
There is an excellent network of trails in this 2600 acre pine forest that is easy to get to with good parking. No riding permit necessary, just the cost of a parking ticket costing around about £4 for the day. Hire bikes available along with an MTB related shop.
Wales
BikePark Wales is the UK's premier mountain bike park.  The 1200 acre site has over 28 descending trails organised in a similar manner to a ski resort. Built in the heart of the South Wales Valleys, BikePark Wales offers mountain bike trails for intermediate to pro level riders. Not just for downhillers, this park is best enjoyed on a trail bike, where swooping blues and rocky, rooty red trails are a perfect step up for trail riders.
Coed y Brenin, North Wales-hailed as the birthplace of modern mountain bike centers, this cycling oasis offers a café, bike hire, changing rooms and six trails, from the easy to the very challenging.
Coed llandegla, North Wales-a stunning private wood with many fine trails that include a teasing 12km beginners ride. After a gentle uphill section comes the joy of downhill, with taster jumps offering excitement.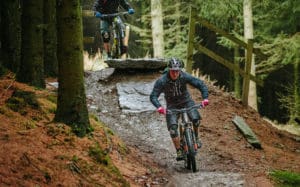 Scotland
Fort William, home to the annual UCI Downhill world cup, Try the 11 mile Witches trail, starting from the Nevis range ski centre car park and climbing towards fast and rocky descent sections, ride the same track as some of the worlds top downhill mountain bike riders.